What does it feel like to make history? Do the breakthrough moments make up for all the hard graft? How do we make space for innvovation in science?
Since becoming a space for innovation and science, the Hall has gained an international reputation for the world changing discoveries and scientific breakthroughs made within it grounds. However, it's not all Eureka moments, much of the daily endeavour of science can be unglamorous and detailed work. Creating a positive environment for innovation to thrive takes time, care and consideration.  Here here we gather memories from people who have worked on this site, the big and small moments connected to their discoveries, and their perspectives on creating a space for science.
If you have memories of the Hall you would like to send us please get in touch!
Advances in materials science
Memory from David Melford, former Director of Research Tube Investments Research Laboratories (TIRL)
"The thing that so attracted a metallurgist like me was this ability to form an image. We had been looking down optical microscopes at bits of metal for 100 years. Our understanding of metals was what you could see down the optical microscope. We had never been able to show up concentrations of one element on the tiniest scale, unless it had changed the nature of the structure around it. If it was just dissolved in the matrix, there was no way you could tell. Peter Duncumb's instrument could show you concentrations of another element even when dissolved in the matrix and, more importantly, identify it. And this was totally new."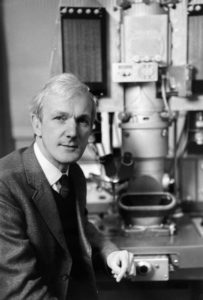 Peter Duncumb, circa 1990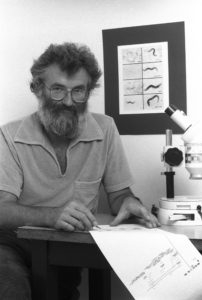 Sir John Sulston, image courtesy of MRC Laboratory of Molecular Biology.
Open and accessible science for all
Memories from Carol Churcher, former member of staff at Wellcome Sanger Institute
CC: "One of my really fond memories was that family feeling, everybody mucking in together. In the early days, although we took on different people for different roles, we did also do a lot of each other's jobs, whether you were manager, a member of the team, senior or junior. For instance, John Sulston, the then Director, and I used to load the sequencing machines on a Friday night when all the youngsters were out having a good time. He was an incredible person in terms of being that that first director, he knew everybody, he was very friendly, he was always willing to do pretty much anything As well as mucking in with everybody else, he was joining parliamentary meetings and talking to the big wheels in the US, he was doing everything. He was an amazing man."
Quote from John Sulston, 
Director, Wellcome Sanger Institute 1992-2000
JS: "Over the decades and centuries to come, this sequence will inform all of medicine, all of biology, and will lead us to a total understanding of not only human beings but all of life."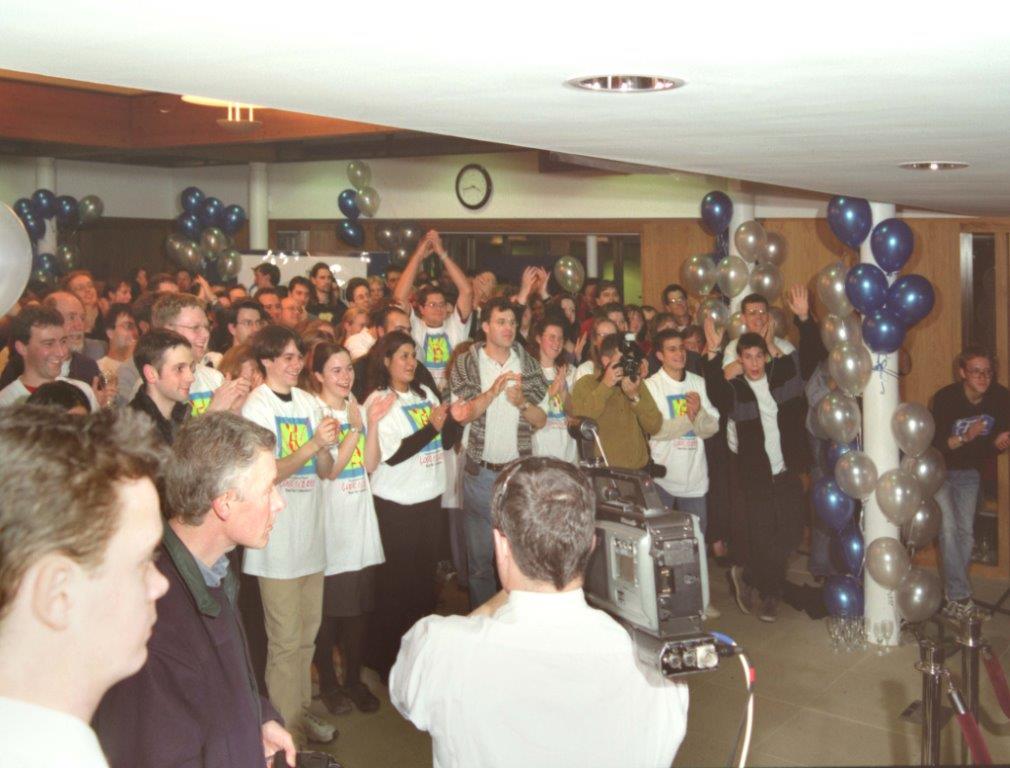 Milestones and cake
Memories from Carol Churcher and Jane Loveland,  former members of staff at Wellcome Sanger Institute
CC: "In those early days, it was very collaborative. The Human Genome Project was a part of a very big international consortium. The group I was involved with was researching yeast and then became a pathogen sequencing group, throughout this work we had lots of interactions with other researchers around the world.
I don't think that I, and probably quite a few of the lab staff really, saw the work that we were doing as really big thing. There were big milestones within the Sanger timeline like the human genome Project, you think wow, that was amazing. But we didn't really appreciate the scale of what was going on at the time. You're busy doing your job, and you're pleased that you're doing a good job. I'm sure there were people who thought, this is momentous, we're going to go great places with this, but I think quite a lot of us didn't, we just got on with the detail.
There were a lot of small steps being made behind the scenes that all contributed to what the Sanger is now and what the campus has become. Much of the work that went on in the early days facilitated, for instance, the Human Genome Project to happen, and bit by bit you build on these achievements and they pave the way for where we are now."
JL: "I remember we used to have the celebrations for milestones, such as the completed mouse genome, with a massive cake and drinks with John Sulston."
Jane Loveland, Simon Gregory and Kirsten Howe discuss their time working on the Human Genome Project here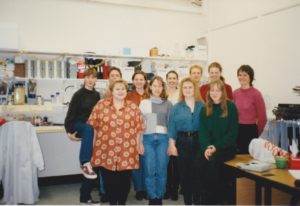 The Sanger Family
Memory by Sally Kay, member of staff at Wellcome Sanger Institute
"The people we worked with made Sanger the place it is today. Everyone was friendly, would be happy to come and help with any issues – it didn't seem to matter how high up you were, if there was a problem everyone would muck in to sort it out. I was always amazed when the big bosses would know my name and have a chat in the corridor. We had the father and son gardeners who would also come and fix things in the lab, John Sulston helped me move plates in the cold room at the weekend when no one else was about. It felt like we were all in it together. We celebrated every chance we could, every little milestone as it had never been done before and everyone was invited, everyone was a part of what we were doing."
The team of scientists that sequenced the BRCA2 gene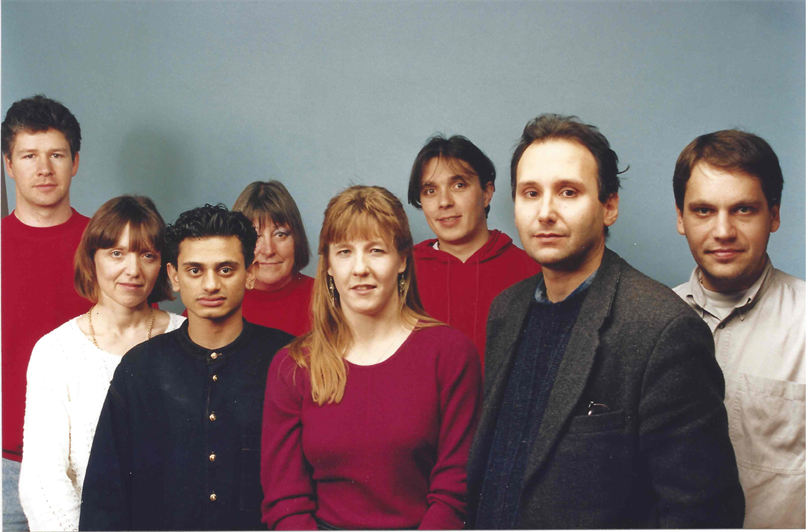 Jeans, genes and breakthroughs in cancer
Memories from Mike Stratton, 
Director, Wellcome Sanger Institute 2010-current
"I visited Sanger in 1994, I suppose it must have been just after the localisation of BRCA2 to chromosome 13, as part of assembling the consortium, that went on to clone and identify the gene. I remember being told that if I had trouble finding the Campus by car I should look out for the big yellow crane that could be seen for miles (no sat navs in those days…). I was left with many impressionistic contrasts of modernity against the wear and tear of years; the high technology, i.e. many shiny sequencing machines, jammed in to ill-fitting corners of a rather unpretentious, ageing brick building (the Tube Investments facility), lots of busy young people in jeans and T-shirts, and the stately home next to it which, on closer inspection, had seen better days. It seemed a very British embarkation on the historic mission of sequencing the human genome.
After I started working on the Cancer Genome Project at Sanger in 2000 I visited the Hall multiple times. From my steel, concrete and glass office in the Sulston Building I would walk across the lawns to enter a large, grand and ornate room in the Hall. Behind a substantial dark wood, leather-topped desk sat either John Cooper or Michael Morgan, always engrossed in writing something important with a fountain pen (not sure I really remember that detail…), who were then directly running the Campus and Conference Centre for  Wellcome. It felt like entering the Headmaster's study with the ghost of Henry Wellcome and the stale wafts of old social hierarchies around us that evaporated when I returned to the modernity of the Sulston Building."
Tackling the virus
Memory from Rachel Nelson, member of staff at Wellcome Sanger Institute
"It was a delicate balance, keeping the team safe while working towards our goal. We scoured the literature, got advice from virologists at EMBL-EBI and Addenbrooke's Hospital, and experimented to develop a process that we were confident made the samples safe. I'm immensely proud of the team and I think it has been good for us in many ways – we've learned new skills, worked with new people and felt part of the collective effort."
Read more about Sanger's contribution to mapping Covid-19 on the Sanger blog, and hear directly from our scientists though our Covid Connections playlist on youtube.